About Us
Dixy Chicken is a Chicken takeaway in Northampton. Why don't you try our Apple Pie or Chicken Rolo Wrap?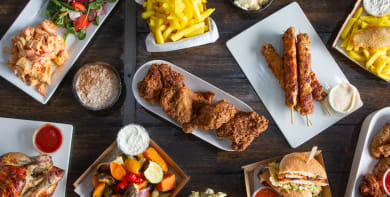 Reviews
637 reviews
Michael
"Good food"
04/03/2021
Dale
"Excellent value. Half the price of Nando's."
27/02/2021
Mina
"Great food - piping hot! Just what was ordered"
24/02/2021
Jay
"Absolutely amazing cheese burgers. A bit more salad would would be better"
20/02/2021
Menu
Mega Mixed Chicken Burger - Single
Whole chicken breast fillet stacked with two chicken strips, cheese, lettuce & mayonnaise
£4.49
Chicken Supreme Fillet Burger - Single
Whole chicken breast fillet stacked with hash brown, cheese, lettuce & mayonnaise
£4.29
Chicken Fillet Burger - Single
Whole chicken breast fillet with lettuce & mayonnaise
£3.79
Peri Peri Burger - Single
Whole breast fillet marinated in peri peri sauces & grilled to perfection with lettuce, mayo & peri peri sauce
Peri~ometer: Hot, medium OR lemon & herb
£4.49
Quarter Pounder Burger - Single
Flame grilled beef succulent beef loaded with cheese, lettuce, onions, cucumber, tomato & ketchup
£3.79
Half Pounder Burger - Single
Double flame grilled beef succulent beef loaded with cheese, lettuce, onions, cucumber, tomato & ketchup
£4.79
Veggie Burger - Single
Veggie patty with lettuce & mayo
£3.79
Fish Burger - Single
Fish patty with lettuce & mayonnaise
£3.79
Mini Fillet Burger - Single
Two tender chicken strips with lettuce & mayonnaise
£2.79
Mega Mixed Chicken Burger - Meal
Whole chicken breast fillet stacked with two chicken strips, cheese, lettuce & mayonnaise
£5.99
Chicken Supreme Fillet Burger - Meal
Whole chicken breast fillet stacked with hash brown, cheese, lettuce & mayonnaise
£5.49
Chicken Fillet Burger - Meal
Whole chicken breast fillet with lettuce & mayonnaise
£4.99
Quarter Pounder Burger - Meal
Flame grilled beef succulent beef loaded with cheese, lettuce, onions, cucumber, tomato & ketchup
£4.99
Half Pounder Burger - Meal
Double flame grilled beef succulent beef loaded with cheese, lettuce, onions, cucumber, tomato & ketchup
£5.99
Veggie Burger - Meal
Veggie patty with lettuce & mayo
£4.99
Fish Burger - Meal
Fish patty with lettuce & mayonnaise
£4.99
Mini Fillet Burger - Meal
Two tender chicken strips with lettuce & mayonnaise
£3.99
Peri Peri Burger - Meal
Whole breast fillet marinated in peri peri sauces & grilled to perfection with lettuce, mayo & peri peri sauce
Peri~ometer: Hot, medium OR lemon & herb
£5.79
Ringo Burger - Single
Whole breast of chicken fillet in classic or sizzler coating with cheese, two onion rings, lettuce & mayo
£4.29
Ringo Burger - Meal
Whole breast of chicken fillet in classic or sizzler coating with cheese, two onion rings, lettuce & mayo
£5.49
Double Decker Burger - Single
Two whole breast of chicken fillet in classic or sizzler coating with cheese, mayo & lettuce
£4.79
Double Decker Burger - Meal
Two whole breast of chicken fillet in classic or sizzler coating with cheese, mayo & lettuce
£5.99
Tower Burger - Single
Whole breast of chicken fillet and grilled succulent beef with lettuce cucumber onion tomato ketchup and Peri Peri sauce
£4.49
Tower Burger - Meal
Whole breast of chicken fillet and grilled succulent beef with lettuce cucumber onion tomato ketchup and Peri Peri sauce
£5.99
Rocking Beef Burger Single (New)
Two 4oz flame grilled beef patties loaded with turkey rashers three cheese slices, lettuce, fried onions, tomato, cucumber, burger sauce & ketchup £6.49
Rocking Beef Burger Meal
Two 4oz flame grilled beef patties loaded with turkey rashers three cheese slices, lettuce, fried onions, tomato, cucumber, burger sauce & ketchup with regular chips
£6.49
Burger Bus Single (New)
Two whole breast of chicken fillets in classic or sizzler coating two mozzarella sticks with three cheese slices, mayo & lettuce
£6.49
Burger Bus Meal (New)
Two whole breast of chicken fillets in classic or sizzler coating two mozzarella sticks with three cheese slices, mayo & lettuce with regular chips & can of drink
£7.99
Rancher Burger Single (New)
Whole chicken breast fillet classic or sizzler coating with Turkey rashers, cheese, lettuce mayo & burger sauce
£4.70
Rancher Burger Meal (New)
Whole chicken breast fillet classic or sizzler coating with Turkey rashers, cheese, lettuce mayo & burger sauce with regular chips & can of drink
£5.99
Rocking Beef Burger Meal (New)
Burger + Chips + Can of Drink
£7.99
Peri Peri Chicken & Rice - On Its Own
Three flavours to choose from Lemon&Herb, Medium or Hot
Meal comes with chips & drink
£5.49
Peri Peri Chicken & Rice - Meal
Three flavours to choose from Lemon&Herb, Medium or Hot
Meal comes with chips & drink
£6.99
3 Pieces Peri Peri Jumbo Wings
1 Piece Peri Peri Chicken
Classic Chicken Panini - Single
Classic recipe chicken stacked with lettuce, mayo & cheese
£4.79
Classic Chicken Panini - Meal
Classic recipe chicken stacked with lettuce, mayo & cheese
£5.99
Sizzler Chicken Panini - Single
Sizzler coated chicken stacked with lettuce, mayo & cheese
£4.79
Sizzler Chicken Panini - Meal
Sizzler coated chicken stacked with lettuce, mayo & cheese
£5.99
Hash Brown Panini - Single
Two hash brown stacked with lettuce, mayo & cheese
£4.79
Hash Brown Panini - Meal
Two hash brown stacked with lettuce, mayo & cheese
£5.99
Chocolate Doughnut 01 Piece
£1.29
Chocolate Doughnut 02 Pieces
£1.99
Classic Recipe Chicken 05 Pieces
£5.99
Classic Recipe Chicken 08 Pieces
£8.99
BBQ Sizzler Chicken Wings 5pcs
Freshly cooked sizzler chicken wings dipped in special BBQ sauce
£4.49
BBQ Sizzler Chicken Wings 8pcs
Freshly cooked sizzler chicken wings dipped in special BBQ sauce
£5.99
Buffalo Chicken Wings 5pcs
Jumbo chicken wings grilled to perfection covered in special buffalo sauce
£4.49
Buffalo Chicken Wings 8pcs
Jumbo chicken wings grilled to perfection covered in special buffalo sauce
£5.99
Spicy Chicken Bites 5pcs
Boneless chicken bites crispy juicy and spicy
£3.79
Spicy Chicken Bites 8pcs
Boneless chicken bites crispy juicy and spicy
£4.79
Chicken Rolo Wrap - Single
Classic recipe chicken with lettuce & mayonnaise stacked in tortilla
£3.79
Chicken Rolo Wrap - Meal
Classic recipe chicken with lettuce & mayonnaise stacked in tortilla
£4.99
Veggie Wrap - Single
Veggie patty with lettuce & mayo stacked in tortilla
£3.79
Veggie Wrap - Meal
Veggie patty with lettuce & mayo stacked in tortilla
£4.99
Peri Peri Wrap - Single
Whole breast chicken marinated in peri peri sauce & grilled to perfection with mayonnaise, lettuce & peri peri  sauce stacked in tortilla
Peri~ometer: Hot, medium OR lemon & herb
£4.49
Peri Peri Wrap - Meal
Whole breast chicken marinated in peri peri sauce & grilled to perfection with mayonnaise, lettuce & peri peri  sauce stacked in tortilla
Peri~ometer: Hot, medium OR lemon & herb
£5.79
Peri Peri Pitta - Single
Peri~ometer: Hot, medium OR lemon & herb
£4.49
Peri Peri Pitta - Meal
Peri~ometer: Hot, medium OR lemon & herb
£5.79
Supreme Chicken Wrap Single
Classic or Sizzler chicken fillet with hash brown cheese lettuce & mayonnaise stacked in Tortilla
£4.79
Supreme Chicken Wrap Meal
Classic or Sizzler chicken fillet with hash brown cheese lettuce & mayonnaise stacked in Tortilla
£5.99
Onion Rings Regular (6pcs)
£1.99
Miranda Strawberry - 0.33L
£0.99
Chicken Fillet Burger Meal
Whole breast fillet in a classic recipe OR spicy sizzler coating with lettuce & mayo
Add 1 breast fillet £1.99 extra
Add 2 breast fillet £3.49 extra
£4.99
Supreme Chicken Burger Meal
Classic OR sizzler fillet burger stacked with hash brown, cheese, lettuce & mayonnaise
Add 1 breast fillet £1.99 extra
£5.49
Mega Mixed Fillet Burger Meal
Classic OR sizzler burger stacked with 2 chicken strips, cheese, lettuce & mayo
Add 1 breast fillet £1.99 extra
£5.99
Peri Peri Burger Meal
Whole breast fillet marinated in peri peri sauces & grilled to perfection with lettuce, mayo & peri peri sauce
Peri~ometer: Hot, medium OR lemon & herb
£5.79
Cheeseburger Meal Quarter Pounder
Flame grilled succulent beef loaded with lettuce, tomatoes, onions, cucumbers, cheese & ketchup
£4.99
Cheeseburger Meal Half Pounder
Flame grilled succulent beef loaded with lettuce, tomatoes, onions, cucumbers, cheese & ketchup
£5.99
Tower Burger Meal
Whole breast of chicken fillet & grilled succulent beef loaded with lettuce, onions, cucumber, tomatoes, ketchup & peri peri sauce with cheese
Add 1 breast fillet £1.99 extra
Add 1 slice of beef £1.99 extra
£5.99
Value Box 02 Pieces
Tender pieces of chicken on our secret classic recipe coating
£4.99
Value Box 03 Pieces
Tender pieces of chicken on our secret classic recipe coating
£5.99
Combo Box 02 Pieces
2 OR 3 classic recipe chicken pieces, 2 sizzler wings, 1 chicken strip
£5.99
Combo Box 03 Pieces
2 OR 3 classic recipe chicken pieces, 2 sizzler wings, 1 chicken strip
£6.99
Sizzler Box 05 Pieces
Chicken wings in our spicy sizzler coating
£4.99
Sizzler Box 08 Pieces
Chicken wings in our spicy sizzler coating
£5.99
Chicken Nuggets Meal 06 Pieces
A box full of tasty bite size chicken pieces in classic recipe coating
£4.29
Chicken Nuggets Meal 09 Pieces
A box full of tasty bite size chicken pieces in classic recipe coating
£4.99
Chicken Strips Meal 03 Pieces
Crispy strips of tender chicken fillet in a mild classic coating
£4.49
Chicken Strips Meal 05 Pieces
Crispy strips of tender chicken fillet in a mild classic coating
£5.49
Tortilla Wraps Meal Veggie
Rolo wrap - with classic chicken strips, lettuce & mayo
Peri wrap - with grilled peri fillet, lettuce, mayo & peri sauce
Veggie wrap - with lettuce & mayo
£4.99
Tortilla Wraps Meal Rolo
Rolo wrap - with classic chicken strips, lettuce & mayo
Peri wrap - with grilled peri fillet, lettuce, mayo & peri sauce
Veggie wrap - with lettuce & mayo
£4.99
Tortilla Wraps Meal Peri
Rolo wrap - with classic chicken strips, lettuce & mayo
Peri wrap - with grilled peri fillet, lettuce, mayo & peri sauce
Veggie wrap - with lettuce & mayo
£5.79
Spicy Chicken Bites - Meal 5pcs
Boneless chicken bites crispy juicy and spicy with regular chips & can of drink
£4.99
Spicy Chicken Bites - Meal 8pcs
Boneless chicken bites crispy juicy and spicy with regular chips & can of drink
£5.99
Quarter Peri Peri Chicken - Regular
£3.99
Quarter Peri Peri Chicken - Meal
£5.29
Half Peri Peri Chicken - Regular
£5.29
Half Peri Peri Chicken - Meal
£6.49
Full Peri Peri Chicken - Regular
£8.49
Full Peri Peri Chicken - Meal
Meal served with 2 fries & 2 cans of soft drink
£10.99
Peri Peri Wings (5 Pieces) - Regular
£4.49
Peri Peri Wings (5 Pieces) - Meal
£5.99
Peri Peri Wings (8 Pieces) - Regular
£5.79
Peri Peri Wings (8 Pieces) - Meal
£6.99
Peri Peri Loaded Box
Peri peri burger + 3 pieces peri peri wings + 1 piece peri peri chicken + regular fries + regular side + can of drink
£9.99
Peri Peri Full Platter
Full peri peri chicken + 2 regular fries + 2 cans soft drink
£10.99
Peri Peri Deluxe Platter
One whole chicken + 10 jumbo wings + 2 regular fries + 2 regular sides + 1.5 liter bottle of soft drink
£19.99
Peri Peri Chicken Strips (5 pieces) - Meal
£5.99
Peri Peri Chicken Strips (5 pieces) - Regular
£4.49
Peri Peri Family Platter
2 Full Peri Peri chicken, 2 regular fries, 2 regular sides, 1 bottle drink and 4 dips
£19.99
Half Peri Chicken & Rice Combo (New)
Half chicken grilled to perfection covered in peri peri sauce with aromatic basmati rice cooked in special herbs and spices served with salad & can of drink
£8.99
Eight Peri Chicken Wings & Rice Combo (New)
Eight jumbo chicken wings grilled to perfection covered in peri peri sauce with aromatic basmati rice cooked in special herbs and spices served with salad & can of drink
£8.99
Eight Peri Chicken Strips & Rice Combo (New)
Eight chicken boneless Strips grilled to perfection covered in peri peri sauce with aromatic basmati rice cooked in special herbs and spices served with salad & can of drink
£9.99
Whole Peri Chicken & Rice Combo (New)
Whole chicken grilled to perfection covered in peri peri sauce with Two portion aromatic basmati rice cooked in special herbs and spices served with 1 regular chips, salad, two cans of drinks and two sauce dips
£16.99
Dixy Boneless Box
3 Pieces chicken strips, 1 breast fillet & 1 regular chicken nuggets
£6.49
Family Bucket 06 Pieces + 3 Regular Fries
£9.99
Family Bucket 10 Pieces + 4 Regular Fries
£13.99
Family Bucket 14 Pieces + 4 Regular Fries
£17.99
Party Bucket 04 Pieces
4, 8 OR 12 pieces + 6 sizzler wings OR 4 chicken strips + 1 nugget + 4 regular fries + 2 large sides + bottled drink
£12.99
Party Bucket 08 Pieces
4, 8 OR 12 pieces + 6 sizzler wings OR 4 chicken strips + 1 nugget + 4 regular fries + 2 large sides + bottled drink
£16.99
Classic Loaded Box Meal
Fillet burger + 1 piece chicken + 1 regular side + 1 regular fries + regular drink
Upgrade to supreme burger  70p extra OR mega mix burger £12.9 extra
Add red salt on fries 20p extra
£7.49
Sizzler Loaded Box Meal
Sizzler burger + 3 pieces spicy wings + 1 regular side + 1 regular fries + regular drink
Upgrade to supreme burger  70p extra OR mega mix burger £12.9 extra
Add red salt on fries 20p extra
£7.49
Boneless Loaded Box Meal
4 Pieces chicken strips + regular nuggets + 1 regular side + 1 regular fries + regular drink
£7.49
Deluxe Combo Bucket
Full peri chicken + 6 original pieces + 6 sizzler wings OR 4 chicken strips + 4 regular fries + 4 dips + bottled drink
£21.99
Classic Mixed Bucket
5 Pieces chicken, 12 spicy wings, 3 chicken burgers, 4 regular fries & 1.5 liter soft drink
£22.99
Wing Lovers
30 Pieces chicken wings, 4 regular fries & 1.5 liter soft drink
£18.99
Party Bucket 12 Pieces
4, 8 OR 12 pieces + 6 sizzler wings OR 4 chicken strips + 1 nugget + 4 regular fries + 2 large sides + bottled drink
£20.99
Boneless Bucket 8 Strips Classic
Classic or Sizzler Boneless Bucket
Classic or 12 Chicken Strips
+ 2 Reg Nuggets
+ 4 Reg Fries
+ 2 Lrg Sides
+ 2 Dips
+ Bottled Drink
£13.99
Boneless Bucket 8 Strips Sizzler Boneless
Classic or Sizzler Boneless Bucket
Classic or 12 Chicken Strips
+ 2 Reg Nuggets
+ 4 Reg Fries
+ 2 Lrg Sides
+ 2 Dips
+ Bottled Drink
£13.99
Boneless Bucket 12 Strips Classic
Classic or Sizzler Boneless Bucket
Classic or 12 Chicken Strips
+ 2 Reg Nuggets
+ 4 Reg Fries
+ 2 Lrg Sides
+ 2 Dips
+ Bottled Drink
£15.99
Boneless Bucket 12 Strips Sizzler Boneless
Classic or Sizzler Boneless Bucket
Classic or 12 Chicken Strips
+ 2 Reg Nuggets
+ 4 Reg Fries
+ 2 Lrg Sides
+ 2 Dips
+ Bottled Drink
£15.99
Beef Loaded Box (New)
Flame grilled succulent Quarter pounder beef burger loaded with cheese, lettuce, onions, cucumber, tomato & ketchup + 2 pieces spicy wings + 1 Chicken Strip + 1 regular side(beans or coleslaw) + 1 regular fries + regular can drink
£7.49
Contact Us
Find Us
36 Wellingborough Road, Northampton, NN14DN
We deliver to
NN1, NN2, NN3, NN4, NN5