About Us
Dixy Chicken is a Chicken takeaway in Northampton. Why don't you try our Apple Pie or Chicken Rolo Wrap?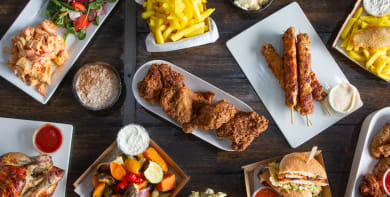 Reviews
641 reviews
christopher
"Delivery was late but food was hot and fresh and amazing as per usual thank u again"
09/04/2021
Gerry
"Hot and tasty as always"
08/04/2021
April
"It's was really nice juicy grilled chicken and crispy fries. Will order it again millions of times for that consistency's"
01/04/2021
Andra
"Very tasty and delivered on time"
29/03/2021
Menu
Mega Mixed Chicken Burger - Single
Whole chicken breast fillet stacked with two chicken strips, cheese, lettuce & mayonnaise
£4.49
Chicken Supreme Fillet Burger - Single
Whole chicken breast fillet stacked with hash brown, cheese, lettuce & mayonnaise
£4.29
Chicken Fillet Burger - Single
Whole chicken breast fillet with lettuce & mayonnaise
£3.79
Peri Peri Burger - Single
Whole breast fillet marinated in peri peri sauces & grilled to perfection with lettuce, mayo & peri peri sauce
Peri~ometer: Hot, medium OR lemon & herb
£4.49
Quarter Pounder Burger - Single
Flame grilled beef succulent beef loaded with cheese, lettuce, onions, cucumber, tomato & ketchup
£3.79
Half Pounder Burger - Single
Double flame grilled beef succulent beef loaded with cheese, lettuce, onions, cucumber, tomato & ketchup
£4.79
Veggie Burger - Single
Veggie patty with lettuce & mayo
£3.79
Fish Burger - Single
Fish patty with lettuce & mayonnaise
£3.79
Mini Fillet Burger - Single
Two tender chicken strips with lettuce & mayonnaise
£2.79
Mega Mixed Chicken Burger - Meal
Whole chicken breast fillet stacked with two chicken strips, cheese, lettuce & mayonnaise
£5.99
Chicken Supreme Fillet Burger - Meal
Whole chicken breast fillet stacked with hash brown, cheese, lettuce & mayonnaise
£5.49
Chicken Fillet Burger - Meal
Whole chicken breast fillet with lettuce & mayonnaise
£4.99
Quarter Pounder Burger - Meal
Flame grilled beef succulent beef loaded with cheese, lettuce, onions, cucumber, tomato & ketchup
£4.99
Half Pounder Burger - Meal
Double flame grilled beef succulent beef loaded with cheese, lettuce, onions, cucumber, tomato & ketchup
£5.99
Veggie Burger - Meal
Veggie patty with lettuce & mayo
£4.99
Fish Burger - Meal
Fish patty with lettuce & mayonnaise
£4.99
Mini Fillet Burger - Meal
Two tender chicken strips with lettuce & mayonnaise
£3.99
Peri Peri Burger - Meal
Whole breast fillet marinated in peri peri sauces & grilled to perfection with lettuce, mayo & peri peri sauce
Peri~ometer: Hot, medium OR lemon & herb
£5.79
Ringo Burger - Single
Whole breast of chicken fillet in classic or sizzler coating with cheese, two onion rings, lettuce & mayo
£4.29
Ringo Burger - Meal
Whole breast of chicken fillet in classic or sizzler coating with cheese, two onion rings, lettuce & mayo
£5.49
Double Decker Burger - Single
Two whole breast of chicken fillet in classic or sizzler coating with cheese, mayo & lettuce
£4.79
Double Decker Burger - Meal
Two whole breast of chicken fillet in classic or sizzler coating with cheese, mayo & lettuce
£5.99
Tower Burger - Single
Whole breast of chicken fillet and grilled succulent beef with lettuce cucumber onion tomato ketchup and Peri Peri sauce
£4.49
Tower Burger - Meal
Whole breast of chicken fillet and grilled succulent beef with lettuce cucumber onion tomato ketchup and Peri Peri sauce
£5.99
Rocking Beef Burger Single (New)
Two 4oz flame grilled beef patties loaded with turkey rashers three cheese slices, lettuce, fried onions, tomato, cucumber, burger sauce & ketchup £6.49
Rocking Beef Burger Meal
Two 4oz flame grilled beef patties loaded with turkey rashers three cheese slices, lettuce, fried onions, tomato, cucumber, burger sauce & ketchup with regular chips
£6.49
Burger Bus Single (New)
Two whole breast of chicken fillets in classic or sizzler coating two mozzarella sticks with three cheese slices, mayo & lettuce
£6.49
Burger Bus Meal (New)
Two whole breast of chicken fillets in classic or sizzler coating two mozzarella sticks with three cheese slices, mayo & lettuce with regular chips & can of drink
£7.99
Rancher Burger Single (New)
Whole chicken breast fillet classic or sizzler coating with Turkey rashers, cheese, lettuce mayo & burger sauce
£4.70
Rancher Burger Meal (New)
Whole chicken breast fillet classic or sizzler coating with Turkey rashers, cheese, lettuce mayo & burger sauce with regular chips & can of drink
£5.99
Rocking Beef Burger Meal (New)
Burger + Chips + Can of Drink
£7.99
Peri Peri Chicken & Rice - On Its Own
Three flavours to choose from Lemon&Herb, Medium or Hot
Meal comes with chips & drink
£5.49
Peri Peri Chicken & Rice - Meal
Three flavours to choose from Lemon&Herb, Medium or Hot
Meal comes with chips & drink
£6.99
3 Pieces Peri Peri Jumbo Wings
1 Piece Peri Peri Chicken
Classic Chicken Panini - Single
Classic recipe chicken stacked with lettuce, mayo & cheese
£4.79
Classic Chicken Panini - Meal
Classic recipe chicken stacked with lettuce, mayo & cheese
£5.99
Sizzler Chicken Panini - Single
Sizzler coated chicken stacked with lettuce, mayo & cheese
£4.79
Sizzler Chicken Panini - Meal
Sizzler coated chicken stacked with lettuce, mayo & cheese
£5.99
Hash Brown Panini - Single
Two hash brown stacked with lettuce, mayo & cheese
£4.79
Hash Brown Panini - Meal
Two hash brown stacked with lettuce, mayo & cheese
£5.99
Chocolate Doughnut 01 Piece
£1.29
Chocolate Doughnut 02 Pieces
£1.99
Classic Recipe Chicken 05 Pieces
£5.99
Classic Recipe Chicken 08 Pieces
£8.99
BBQ Sizzler Chicken Wings 5pcs
Freshly cooked sizzler chicken wings dipped in special BBQ sauce
£4.49
BBQ Sizzler Chicken Wings 8pcs
Freshly cooked sizzler chicken wings dipped in special BBQ sauce
£5.99
Buffalo Chicken Wings 5pcs
Jumbo chicken wings grilled to perfection covered in special buffalo sauce
£4.49
Buffalo Chicken Wings 8pcs
Jumbo chicken wings grilled to perfection covered in special buffalo sauce
£5.99
Spicy Chicken Bites 5pcs
Boneless chicken bites crispy juicy and spicy
£3.79
Spicy Chicken Bites 8pcs
Boneless chicken bites crispy juicy and spicy
£4.79
Chicken Rolo Wrap - Single
Classic recipe chicken with lettuce & mayonnaise stacked in tortilla
£3.79
Chicken Rolo Wrap - Meal
Classic recipe chicken with lettuce & mayonnaise stacked in tortilla
£4.99
Veggie Wrap - Single
Veggie patty with lettuce & mayo stacked in tortilla
£3.79
Veggie Wrap - Meal
Veggie patty with lettuce & mayo stacked in tortilla
£4.99
Peri Peri Wrap - Single
Whole breast chicken marinated in peri peri sauce & grilled to perfection with mayonnaise, lettuce & peri peri  sauce stacked in tortilla
Peri~ometer: Hot, medium OR lemon & herb
£4.49
Peri Peri Wrap - Meal
Whole breast chicken marinated in peri peri sauce & grilled to perfection with mayonnaise, lettuce & peri peri  sauce stacked in tortilla
Peri~ometer: Hot, medium OR lemon & herb
£5.79
Peri Peri Pitta - Single
Peri~ometer: Hot, medium OR lemon & herb
£4.49
Peri Peri Pitta - Meal
Peri~ometer: Hot, medium OR lemon & herb
£5.79
Supreme Chicken Wrap Single
Classic or Sizzler chicken fillet with hash brown cheese lettuce & mayonnaise stacked in Tortilla
£4.79
Supreme Chicken Wrap Meal
Classic or Sizzler chicken fillet with hash brown cheese lettuce & mayonnaise stacked in Tortilla
£5.99
Onion Rings Regular (6pcs)
£1.99
Miranda Strawberry - 0.33L
£0.99
Chicken Fillet Burger Meal
Whole breast fillet in a classic recipe OR spicy sizzler coating with lettuce & mayo
Add 1 breast fillet £1.99 extra
Add 2 breast fillet £3.49 extra
£4.99
Supreme Chicken Burger Meal
Classic OR sizzler fillet burger stacked with hash brown, cheese, lettuce & mayonnaise
Add 1 breast fillet £1.99 extra
£5.49
Mega Mixed Fillet Burger Meal
Classic OR sizzler burger stacked with 2 chicken strips, cheese, lettuce & mayo
Add 1 breast fillet £1.99 extra
£5.99
Peri Peri Burger Meal
Whole breast fillet marinated in peri peri sauces & grilled to perfection with lettuce, mayo & peri peri sauce
Peri~ometer: Hot, medium OR lemon & herb
£5.79
Cheeseburger Meal Quarter Pounder
Flame grilled succulent beef loaded with lettuce, tomatoes, onions, cucumbers, cheese & ketchup
£4.99
Cheeseburger Meal Half Pounder
Flame grilled succulent beef loaded with lettuce, tomatoes, onions, cucumbers, cheese & ketchup
£5.99
Tower Burger Meal
Whole breast of chicken fillet & grilled succulent beef loaded with lettuce, onions, cucumber, tomatoes, ketchup & peri peri sauce with cheese
Add 1 breast fillet £1.99 extra
Add 1 slice of beef £1.99 extra
£5.99
Value Box 02 Pieces
Tender pieces of chicken on our secret classic recipe coating
£4.99
Value Box 03 Pieces
Tender pieces of chicken on our secret classic recipe coating
£5.99
Combo Box 02 Pieces
2 OR 3 classic recipe chicken pieces, 2 sizzler wings, 1 chicken strip
£5.99
Combo Box 03 Pieces
2 OR 3 classic recipe chicken pieces, 2 sizzler wings, 1 chicken strip
£6.99
Sizzler Box 05 Pieces
Chicken wings in our spicy sizzler coating
£4.99
Sizzler Box 08 Pieces
Chicken wings in our spicy sizzler coating
£5.99
Chicken Nuggets Meal 06 Pieces
A box full of tasty bite size chicken pieces in classic recipe coating
£4.29
Chicken Nuggets Meal 09 Pieces
A box full of tasty bite size chicken pieces in classic recipe coating
£4.99
Chicken Strips Meal 03 Pieces
Crispy strips of tender chicken fillet in a mild classic coating
£4.49
Chicken Strips Meal 05 Pieces
Crispy strips of tender chicken fillet in a mild classic coating
£5.49
Tortilla Wraps Meal Veggie
Rolo wrap - with classic chicken strips, lettuce & mayo
Peri wrap - with grilled peri fillet, lettuce, mayo & peri sauce
Veggie wrap - with lettuce & mayo
£4.99
Tortilla Wraps Meal Rolo
Rolo wrap - with classic chicken strips, lettuce & mayo
Peri wrap - with grilled peri fillet, lettuce, mayo & peri sauce
Veggie wrap - with lettuce & mayo
£4.99
Tortilla Wraps Meal Peri
Rolo wrap - with classic chicken strips, lettuce & mayo
Peri wrap - with grilled peri fillet, lettuce, mayo & peri sauce
Veggie wrap - with lettuce & mayo
£5.79
Spicy Chicken Bites - Meal 5pcs
Boneless chicken bites crispy juicy and spicy with regular chips & can of drink
£4.99
Spicy Chicken Bites - Meal 8pcs
Boneless chicken bites crispy juicy and spicy with regular chips & can of drink
£5.99
Quarter Peri Peri Chicken - Regular
£3.99
Quarter Peri Peri Chicken - Meal
£5.29
Half Peri Peri Chicken - Regular
£5.29
Half Peri Peri Chicken - Meal
£6.49
Full Peri Peri Chicken - Regular
£8.49
Full Peri Peri Chicken - Meal
Meal served with 2 fries & 2 cans of soft drink
£10.99
Peri Peri Wings (5 Pieces) - Regular
£4.49
Peri Peri Wings (5 Pieces) - Meal
£5.99
Peri Peri Wings (8 Pieces) - Regular
£5.79
Peri Peri Wings (8 Pieces) - Meal
£6.99
Peri Peri Loaded Box
Peri peri burger + 3 pieces peri peri wings + 1 piece peri peri chicken + regular fries + regular side + can of drink
£9.99
Peri Peri Full Platter
Full peri peri chicken + 2 regular fries + 2 cans soft drink
£10.99
Peri Peri Deluxe Platter
One whole chicken + 10 jumbo wings + 2 regular fries + 2 regular sides + 1.5 liter bottle of soft drink
£19.99
Peri Peri Chicken Strips (5 pieces) - Meal
£5.99
Peri Peri Chicken Strips (5 pieces) - Regular
£4.49
Peri Peri Family Platter
2 Full Peri Peri chicken, 2 regular fries, 2 regular sides, 1 bottle drink and 4 dips
£19.99
Half Peri Chicken & Rice Combo (New)
Half chicken grilled to perfection covered in peri peri sauce with aromatic basmati rice cooked in special herbs and spices served with salad & can of drink
£8.99
Eight Peri Chicken Wings & Rice Combo (New)
Eight jumbo chicken wings grilled to perfection covered in peri peri sauce with aromatic basmati rice cooked in special herbs and spices served with salad & can of drink
£8.99
Eight Peri Chicken Strips & Rice Combo (New)
Eight chicken boneless Strips grilled to perfection covered in peri peri sauce with aromatic basmati rice cooked in special herbs and spices served with salad & can of drink
£9.99
Whole Peri Chicken & Rice Combo (New)
Whole chicken grilled to perfection covered in peri peri sauce with Two portion aromatic basmati rice cooked in special herbs and spices served with 1 regular chips, salad, two cans of drinks and two sauce dips
£16.99
Dixy Boneless Box
3 Pieces chicken strips, 1 breast fillet & 1 regular chicken nuggets
£6.49
Family Bucket 06 Pieces + 3 Regular Fries
£9.99
Family Bucket 10 Pieces + 4 Regular Fries
£13.99
Family Bucket 14 Pieces + 4 Regular Fries
£17.99
Party Bucket 04 Pieces
4, 8 OR 12 pieces + 6 sizzler wings OR 4 chicken strips + 1 nugget + 4 regular fries + 2 large sides + bottled drink
£12.99
Party Bucket 08 Pieces
4, 8 OR 12 pieces + 6 sizzler wings OR 4 chicken strips + 1 nugget + 4 regular fries + 2 large sides + bottled drink
£16.99
Classic Loaded Box Meal
Fillet burger + 1 piece chicken + 1 regular side + 1 regular fries + regular drink
Upgrade to supreme burger  70p extra OR mega mix burger £12.9 extra
Add red salt on fries 20p extra
£7.49
Sizzler Loaded Box Meal
Sizzler burger + 3 pieces spicy wings + 1 regular side + 1 regular fries + regular drink
Upgrade to supreme burger  70p extra OR mega mix burger £12.9 extra
Add red salt on fries 20p extra
£7.49
Boneless Loaded Box Meal
4 Pieces chicken strips + regular nuggets + 1 regular side + 1 regular fries + regular drink
£7.49
Deluxe Combo Bucket
Full peri chicken + 6 original pieces + 6 sizzler wings OR 4 chicken strips + 4 regular fries + 4 dips + bottled drink
£21.99
Classic Mixed Bucket
5 Pieces chicken, 12 spicy wings, 3 chicken burgers, 4 regular fries & 1.5 liter soft drink
£22.99
Wing Lovers
30 Pieces chicken wings, 4 regular fries & 1.5 liter soft drink
£18.99
Party Bucket 12 Pieces
4, 8 OR 12 pieces + 6 sizzler wings OR 4 chicken strips + 1 nugget + 4 regular fries + 2 large sides + bottled drink
£20.99
Boneless Bucket 8 Strips Classic
Classic or Sizzler Boneless Bucket
Classic or 12 Chicken Strips
+ 2 Reg Nuggets
+ 4 Reg Fries
+ 2 Lrg Sides
+ 2 Dips
+ Bottled Drink
£13.99
Boneless Bucket 8 Strips Sizzler Boneless
Classic or Sizzler Boneless Bucket
Classic or 12 Chicken Strips
+ 2 Reg Nuggets
+ 4 Reg Fries
+ 2 Lrg Sides
+ 2 Dips
+ Bottled Drink
£13.99
Boneless Bucket 12 Strips Classic
Classic or Sizzler Boneless Bucket
Classic or 12 Chicken Strips
+ 2 Reg Nuggets
+ 4 Reg Fries
+ 2 Lrg Sides
+ 2 Dips
+ Bottled Drink
£15.99
Boneless Bucket 12 Strips Sizzler Boneless
Classic or Sizzler Boneless Bucket
Classic or 12 Chicken Strips
+ 2 Reg Nuggets
+ 4 Reg Fries
+ 2 Lrg Sides
+ 2 Dips
+ Bottled Drink
£15.99
Beef Loaded Box (New)
Flame grilled succulent Quarter pounder beef burger loaded with cheese, lettuce, onions, cucumber, tomato & ketchup + 2 pieces spicy wings + 1 Chicken Strip + 1 regular side(beans or coleslaw) + 1 regular fries + regular can drink
£7.49
Contact Us
Find Us
36 Wellingborough Road, Northampton, NN14DN
We deliver to
NN1, NN2, NN3, NN4, NN5